Welcome to Southam's Classic Car Warehouse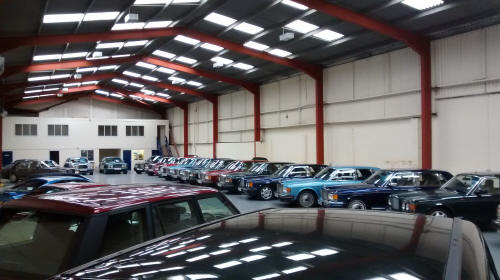 Over the last 30 years we have established a reputation for high quality cars and first class customer service.
Working exclusively by appointment on a one to one basis our company offers a bespoke, personal service to our customers. We have found that once people have dealt with us they tend to deal with us again and again, many of our sales are to people who have bought from us previously or recommended us to their friends and colleagues, in fact we have generations of families, their friends and associates, all benefiting from our experience..
We are very different from other car dealers and operate our business in a very different way.
All
our cars are independently sourced by ourselves, the majority through marque enthusiasts and collectors.

This method of sourcing vehicles obviously involves a great deal of travelling but experience has taught us that

the standard of cars we like to deal with tend to be in the hands of enthusiasts and not available through the motor trade. The standard of our stock - and the way we treat our customers - sets us apart from other dealers.
Many dealers are happy to buy neglected cars through "the trade" and clean them up for a quick profit, we do not
.
We travel the country searching for cars which have always been looked after and cherished by their owners. We find this far more gratifying than the fun and games we have encountered with other car dealers who seem solely interested in their profit and have no real interest in their cars.
All our vehicles are HPI checked as a matter of course before we buy them to ensure the vehicle has no hidden history - none of our cars have ever been involved in accidents, none of our cars have been stolen and none of our cars have finance repayments outstanding. We will happily supply an HPI report with every vehicle we sell.
Above all else we are genuine car enthusiasts and we thoroughly enjoy meeting like minded people, we share your passion for cars and the sheer enjoyment of driving.

We hope this passion is reflected in the cars which we supply and the manner in which we conduct our business.

For us, and for our customers, motoring is far more than just transport.
See what our customers have to say about us on our Testimonials page
Sales
We work exclusively by appointment on a one to one basis and in so doing we can offer a bespoke, personal service to our customers. We are totally down to earth genuine car enthusiasts, we thoroughly enjoy meeting and talking to like minded people and strive to make the entire buying process as pleasant and enjoyable as possible.
We do not employ "high pressure" sales techniques and we never push people into making snap decisions. We work on the basis that if you like our car - and you are happy with the way you are treated - then you will give us your business. Having said that, it is very rare for someone to travel to view our cars and not buy, in fact we have far more difficulty buying cars then we do selling them and very often have several people chasing the same car.
We were pioneers of internet car sales and these days many people choose to buy directly from this website and have the car delivered to their door without ever travelling to see us ! We have sent cars all over the country and indeed, all over the world. We have sold cars to Australia, New Zealand, South Africa, Cyprus and all over Europe, all purchased on trust from this website. The internet has transformed the way we do business and given us access to a worldwide market.
We will consider taking your existing car in part exchange however please do contact us to check that we are interested in your car before you make the journey to see us.
Preparation
Our advertised prices are for the car fully prepared, ready to use and enjoy, no car leaves here with a known problem or foreseeable imminent failure. It generally takes approximately one week to prepare each vehicle, sales are usually secured by a deposit and the balance paid prior to collection once the vehicle is ready. If the vehicle needs any "special order" parts or at very busy times the preparation may take longer but we will always keep you well informed.
Since 1999 we have used Carl Fish for all vehicle preparation. Carl has invested in state of the art diagnostic equipment and has the specialist tools and experience necessary to identify and rectify any problems. At busy times we have also enlisted respected marque specialists Bowling Ryan who have proved to be excellent and very knowledgeable.
Working through the service records and carrying out a visual inspection and road test, Carl thoroughly checks each car to ensure there are no existing problems and no imminent repairs.
All our cars are supplied with a new MOT certificate with no advisory notices.
Interesting Cars Always Wanted - Commission Sales Undertaken
If you have an interesting prestige, sports or classic car to sell with low mileage and excellent history please do feel free to contact us. If you require an immediate sale we will do our best to agree a figure for outright purchase. We do not work off price guides and will not insult you with silly "trade" valuations. We will also beat the "We Buy Any Car" type companies by a comfortable margin.
Alternatively, we would be more than happy to undertake the sale of your vehicle on a commission basis. Most people looking for a new car have an existing vehicle to part exchange and require finance on their new car, they also like the peace of mind that comes from buying from a reputable dealer. This can make selling a car privately quite difficult, particularly with vehicles of a higher value.
Your car will be fully prepared by ourselves and professionally marketed on five different websites alongside our own vehicles, until sold. We can also offer other dealer services to potential buyers, including finance, warranty and buying their part exchange.
With these points in mind, we can often realise a higher selling price and a quicker sale than you would achieve on your own and completely relieve you of all the hassle of selling the car and clearing payment.
We regularly deal with bereavement sales and can assure you of our utmost discretion and understanding at these times.
All our cars are prepared using Auto Glym Products
Thank You for visiting our website. With your help, our company supports :
Marie Curie Cancer Care
CLIC Sargent - Children With Cancer
Blackburn and District Blind Society