Outstanding classic cars bought and sold for over 30 years - Rolls Royce and Bentley specialists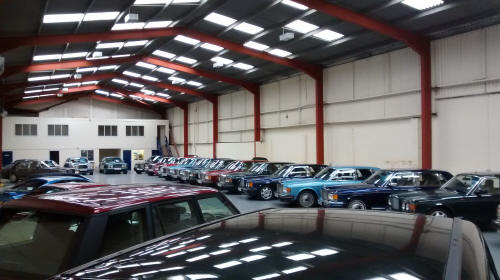 Welcome to Classic Car Warehouse
Over the last 30 years we have established a reputation for high quality cars and first class customer service.
Once people have dealt with us they tend to deal with us again and again. Many of our sales are to people who have bought from us previously or recommended us to their friends and colleagues, in fact we have generations of families, their friends and associates, all benefiting from our experience.
Our reputation is built on the back of the vehicles we supply, we cannot afford to buy anything but the best, carefully owned, well maintained vehicles, we will not compromise on quality to save a few pounds.
The standard of our stock reflects this buying policy and our customers enjoy the satisfaction of owning a premium quality classic car that will provide enjoyable motoring for years to come, and provide a good return on your investment.
We own our cars ! Unlike most large dealerships we are not backed by a bank or finance company, the cars that you see here are cars into which we have made a personal investment. With 30 years experience in the classic car marketplace, you can be confident that if we are happy to invest our own money into these vehicles they will meet the requirements of any potential buyer.
We do not deal with the motor trade and we do not buy from auctions, all our vehicles are sourced directly from the enthusiasts and collectors who own them, experience has taught us that the best cars are in the caring hands of private owners, not in the motor trade.
Above all else we are genuine car enthusiasts, we share your passion for cars and the sheer enjoyment of driving.

We hope this passion is reflected in the cars which we supply and the manner in which we conduct our business.
See what our customers have to say about us on our Testimonials page
Sales
Buying a new car, especially a classic car, should be a very pleasant and enjoyable experience and it has always been our aim to make it so.
We work exclusively by appointment on a one to one basis and in so doing we can offer a bespoke, personal service to our customers.
Customers are welcomed with a cup of tea and allowed to examine the cars at leisure, our staff will happily answer any questions and make all relevant paperwork available to you but will not stand over you and bombard you with sales talk.
We do not employ "high pressure" sales techniques and we never push people into making snap decisions. We work on the basis that if you like our car and you are happy with the way you are treated then you will want to deal with us.
We were pioneers of internet car sales and these days many people choose to buy directly from this website and have the car delivered to their door without ever travelling to see us. We have sent cars all over the country and indeed, all over the world. We have sold cars to Australia, New Zealand, South Africa, UAE, Japan, Cyprus and all over Europe, all purchased on trust from this website. The internet has transformed the way we do business and given us access to a worldwide market.
Sales are usually secured by a deposit and the balance paid prior to collection or delivery once the vehicle is ready.
If you are having your vehicle delivered please understand that we must be in receipt of cleared funds before the vehicle leaves our premises.
Please note, we no longer accept card payments, payment is by bank transfer, cash or cleared cheque.
Preparation
Our cars are thoroughly prepared cosmetically and mechanically prior to sale so you can buy with confidence.
Our advertised prices include a full inspection by an independent marque specialist and any remedial work they deem required, we do not tell them what work to do, they tell us what the car needs - we much prefer any problems to be discovered and rectified during the preparation process rather than our customers finding them later.
Our cars are prepared to a very high standard, no car leaves here with a known issue or foreseeable imminent failure.
Following this preparation the car is taken for an MOT test at an independent testing station and any advisory notices are attended to, all our cars are supplied with a new MOT with no advisory notices.
This preparation process generally takes a week to ten days. If the vehicle needs any "special order" parts or at very busy times the preparation may take longer but we will always keep you well informed.
All viewings strictly by appointment
Telephone 01254 290279
Telephone Monday to Friday 9am-5pm - All viewings by appointment
To get back to our Home page, click HERE