Outstanding classic cars bought and sold for over 30 years - Rolls Royce and Bentley specialists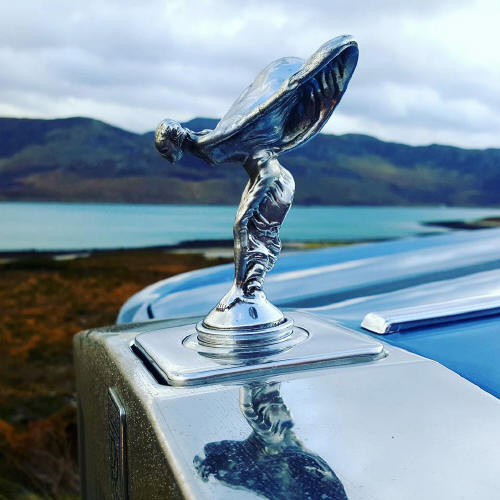 Testimonials
Above all else we are genuine car enthusiasts with a real passion for our cars. We hope this passion is reflected in every car we supply and in the manner in which we conduct our business.
Below are some of the testimonials our customers have very kindly left for us - N.B. every single one of these comments was entirely unsolicited.
Sir Anthony Joliffe, ex Lord Mayor of London and friends, collecting Sir Anthony's Silver Shadow. Sir Anthony has since become a regular customer.
I hope you and your father are keeping well, thank you for sending the spare key through for my Jaguar, all received. I am delighted with the car; it drives much better than more modern models in my view and is in fantastic condition. I found the whole purchase experience very enlightening and far removed from the usual car purchasing process, which is often stressful. Your description of the car was very accurate, and it is evident you are a man of your word, with a stock that is to the highest standard, pleasantly sold with no pressure. I may well be tempted to add to my fleet! I will not hesitate to recommend your company and I will be keeping a watchful eye on your website! All best wishes and my thanks again. Steve Whiteway FCILT, S.R.Whiteway&Son.
I purchased my 2004 Jaguar XJ6 from the Classic Car Warehouse nearly two years ago. I bought her purely from the photographs on the website. The Green Goddess as I call her, was exactly how the photographs depicted. She was a very low mileage motor car still in prime condition inside and out. The few minor blemishes were eliminated by a Rolls Royce and Bentley specialist, I thought her worthy of such treatment. We only take her out on very special occasions and never on a wet day, such a lovely car. How nice that purely on photographic content I made an excellent choice. Many thanks. Lord Terence Jones.
After an extensive search both on and offline I found a Bentley that seemed to fit my requirements. The journey from Northampton to Blackburn to check it out was well worth while. An immaculate example of the marque, honestly presented by Danny who, with his father in close support, made the whole buying experience a delight. No flannelling and no pressure to buy; but lots of evidence that this is a trustworthy enterprise. Since purchasing it and after a few longer distance trips, the Mulsanne has proven to be the perfect conveyance, performing as well as it did when it left the factory in 1990 which is to say - without fault. Brigadier Charles B Telfer CBE
( Gentleman's wife)...absolutely loves the car and for the first time in our 30 year marriage she was lost for words. It's a truly stunning car and I'm so glad that I came to you guys as I've been looking for a long time for the right car and there are a lot of expensive dogs out there. It's a very true saying that you only get what you pay for. Thanks again for making this such an easy transaction. Take care and I wish you all the best in your business for the future. Mr Spence, Bentley GT.
I must also thank you for the way you have carried out this transaction, you are a special person and work like myself, after being in business for 57 years I don't come across people like you very often. I hope to come up and see you and your cars in the near future as I will probably be thinking of buying again from you after lockdown. William Green, MD Briar Properties.
Thanks once again for everything you did selling the Lincoln. If all business people were like you, buying and selling on trust, it would make life much better. Roger Heapy, retired.
Thank you very much for handling the sale of my late Father's Rolls, it's been a pleasure doing business and I would recommend you to anyone. Simon Clutton, MD Property Company
Thank you for your very professional work in getting the sales through for both the SL and the Bentley in what was, for me, a very stress free experience. Thanks again and I feel sure we will be doing some more business in the future.
Repeat Customer, Managing Director, Cyber Security Company.
Thank you for making my purchase a very stress free process, it was a real pleasure to meet you and your Dad ( The Boss ! ). The car is great and I hope to meet you again. Chris Bainbridge, ex Scotland Yard. Range Rover.
Thanks for all your help in finding my Brooklands Bentley, the car is a superb motor. There was a hiccup, which working with you was quickly sorted out at a garage closer to my home. We would most definitely deal with you again and only wish that all car dealers were the same and provide such excellent service and after support. Robert Schuller, ( Schuller Recycling ). Bentley Brooklands.
The most genuine dealer in the world, nothing is too much trouble, this is my 4th Rolls possibly the best one yet thanks Daniel. Best regards Alan. Alan Wright, retired Lieutenant Commander, Royal Navy, Rolls Royce Silver Shadow II.
I visited several dealers looking at cars, many could not be bothered talking to me at all, some were off hand and arrogant, some were typical pushy salesmen who I was not happy to deal with and many had cars on display that were scruffy and overpriced. Here I was treated very courteously, offered a cup of tea and made to feel welcome. I spent a long time looking over the car and never felt pressured at all, in fact the entire buying experience was a complete pleasure. On top of that I simply could not fault the car, despite my best efforts, so I bought it. I can sincerely recommend this dealer and will definitely come here again. Solicitor, Jaguar XJ.
Very happy with the car and with the service, I will let everyone know that I have been treated fairly. Lieutenant General R.C.Menzies, CB OBE, retired Surgeon General to the British Armed Forces. Bentley Mulsanne S.
Just to let you know that Bentley Brooklands has & is performing entirely in line with it's distinguished provenance. Good selection on your part. Very happy with the buy as your website originally suggested the eventual purchaser would be. Hope you & family including Father are all running well & successfully. Best regards. ( Unsolicited message received 3.5 years after purchase ) ! Distinguished customer, Bentley Brooklands.
Not at all what you expect from a car dealer. Friendly and professional, open and honest, very straightforward and a pleasure to do business with. All cars of a very high standard. It's easy to see why Southams are so busy whilst other dealers appear to be struggling. cc Commander Saunders Watson, Rockingham Castle, Rockingham Estate. Bentley Mulsanne S.
Selling the old girl has been rather traumatic to say the least, but with you holding the reins as it were, a smooth transition was achieved and for that alone I will always be grateful to you for your efforts, and your professionalism. Tony Keelan, Austin Healey 3000 sold on consignment.
Very pleased with the car and with the service, I will be your Southern ambassador ! Barry Jell, London photographer, Bentley Continental.
Wonderful mix of cars from very honest, friendly people. Lord of Alderley, Jaguar XK.
Very pleasant people, not like dealing with car dealers at all. I bought the car directly from the website, unseen and had it delivered. The car exceeded expectations and I was very happy all round. Lord Nick Parry, Bentley Brooklands.
Hi Danny, Just thought I would give you an update. Had a few moments back in the Summer when I was seriously questioning why I got the car but to be fair everything that went wrong was actually tiny and mainly a result of it having not been driven for a while. She's running a treat now and I've found a brilliant guy to look after her. I must say she is a constant source of joy to me. I love that car. Thanks so much. Best etc. Guy Pratt, Pink Floyd, Rolls Royce Silver Spirit.
I made a 500 mile round trip for a car based on a description I had read on this website. From the website I thought these sounded like good people who were doing the job properly. I am very pleased that I trusted them, the car is first class and they are lovely people. I'll be back ! Scottish businessman.
Hi Danny, I just wanted to send a quick email to thank you for the business we did last Saturday. It was great to meet you and your family and a pleasure to deal with you. I hope you continue to do good business. £800m net worth individual.
I spent 3 months searching and drove 15 cars. I came to Southams last because they were not the cheapest, and a long way from London. When I saw the standard of the cars it was obvious the other cars were cheaper for good reason. Porsche Boxster.
Hi Danny. Just a quick note to say thank you very much for the service we received when purchasing the car. The car is fantastic and I really couldn't be any happier with it. We have already recommended you to family and friends and will continue to do so, we most definitely hope to do business with you again. All the best for the future. Now a repeat customer.
A great selection of cars with friendly service and no sales pressure. The description of the vehicle was detailed and accurate – it said immaculate and it was, the car looked brand new. Friendly sales people answering any questions I had and providing full vehicle documentation left me with no concerns about the cars history. I would definitely buy from Southams again. High net worth individual, Mercedes SL.
I really was at my wits end when I came across this dealer, I had wasted time and money travelling to see cars described as "good condition" in the adverts and they were not. I was sincerely impressed with the cars I saw here and can wholeheartedly recommend this dealer. Next time I need a car I will save myself a lot of trouble and come straight here. Porsche 911.
Just a quick note to say thank you very much for the very friendly and professional manner in which you dealt with my purchase of the BMW. I felt under no pressure whatsoever and feel that I received a very fair deal on my part exchange. I will not hesitate to contact you again in a few years when the time comes to change and will certainly also recommend Southams to all my family and friends. May I offer my best wishes to you and Southams for a successful future. Thanks again, kind regards. Now a repeat customer.
I bought two cars over the telephone, one for myself and the other for my mother and had them both delivered to my home. I had not seen either of the cars but decided to trust the descriptions. We are delighted with both our cars and will definitely use this service again. London businessman.
My family is now on it's 3rd car from this dealer. We are very pleased with the cars and the service. I think it's down to how they buy their cars. I know they travel a lot and look at many cars so I think that if they bought the car then it must be a good one. They have been doing the job a long time and wouldn't buy a car if it wasn't a good one. We will always come here when considering our next car. Repeat customer.
Completely unlike any other car dealers we visited, very friendly, genuine people. We know where our next car is coming from. MD, Bentley Turbo R.
At first I was concerned about making an appointment in case I felt obliged to buy the car, but I was not treated in that way at all, it's just the way they run their business. I would not hesitate to come here again. MD, Bentley Arnage.
I flew from Dublin for a car I had never seen. I trusted their description and made the trip. The car was even better than I expected and I am absolutely over the moon. Musician, Volvo 960.
I needed a car but I was too busy to go looking for one. I took advantage of the delivery service and bought a car over the telephone. When the car was delivered it was exactly what I expected and I am totally happy with it. The convenience of this arrangement was ideal for me and I will use this service again. Television actor, Audi A5.
We were allowed to examine the car at leisure and I was most impressed by the way I was treated. I did not make a decision there and then, but after visiting many other dealers I knew I had to come back here for my new car. Bentley Brooklands.
To get back to our Home page, click HERE
This website is copyright (c) 2018 TGS 2018 Limited